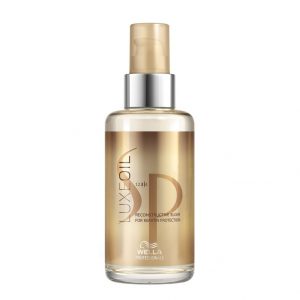 INTENDED USE:
Wella Luxe Hair Oil is designed to rebuild and improve the structure of dry, rough hair that also lacks moisture and elasticity.
COMPOSITION AND EFFECTS:
Wella Luxe Oil Reconstructive Elixir provides texturising effects thanks to combining natural oils which are able to not only penetrate the inside of the hair but also to secure it on the surface as well as smooth and intensify the glow. The product consists of three natural oils: Jojoba oil, which gives the hair elasticity and moisture and balances sebum secretion, Almond oil, providing delicate care and supplying vitamin E, and Argan oil, which is well absorbed into the hair and protects it from a hot blow dryer and the burning sun. Wella Luxe Oil Reconstructive Elixir Hair Oil works primarily for the beautifying effect: it enhances shine and smooths out the hair. Frequent use may, unfortunately, dehydrate your hair, because the product contains a lot of alcohol (alcohol denat).
Natural oils are dominated by a significant amount of silicones, alcohols and other synthetic substances.
NATURAL OILS IN THE COMPOSITION:
Wella Luxe Oil Reconstructive Elixir includes three natural oils:
Jojoba Oil
Almond Oil
Argan Oil
DIRECTIONS:
Wella Luxe Oil Reconstructive Elixir can be applied to dry or damp hair after washing. Simply squeeze 1-2 pumps and apply to the hair from the mid-length, towards the ends.
ADVANTAGES:
nice scent
good consistency, easy application thanks to an efficient pump
three natural oils in the composition
immediate improvement in the appearance of the hair
weightless formula
efficient
DISADVANTAGES:
cannot be used on the scalp
alcohol content
silicone content