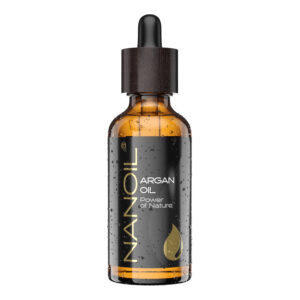 INTENDED USE
One of the most universal natural oils that can be used on almost every hair type. It works best on highly-porous, damaged, dry hair, and if you heat style frequently. What's important, Nanoil Argan Oil can be used on body, nails and face too. It is an all-purpose oil so everybody should have it close at hand.
COMPOSITION AND EFFECTS
This simple argan oil launched by Nanoil is a remedy for lots of hair problems. Used regularly, it doesn't only ensure moisture, nourish or smooth out hair but also gives protection. It doesn't only protect against free radicals (thanks to being high in vitamin E and other antioxidants) but also the sunlight (natural, delicate UV filter) and heat (delivers protection from heat styling damage).
Regularly-performed argan oil hair treatment is a way to keep strands healthy, youthful and vital longer.
If you really want to have elastic, luminous, silky smooth hair, Nanoil Argan Oil is a must.
It is a natural oil free from useless and unnecessary additives, cold pressed, not refined, fast absorbing, and thus it can be applied to skin on the head too. All you need to do is rub a bit Nanoil Argan Oil into scalp every day or before a wash to strengthen follicles, guarantee faster growth and repair.
NATURAL OILS IN THE COMPOSITION
Nanoil Argan Oil is 100% cold-pressed, unrefined oil extracted from the nuts of Argan tree (Argania Spinosa Kernel Oil) holding the Ecocert mark.
DIRECTIONS
Nanoil Argan Oil has a great asset which is a wide range of uses. The manufacturer doesn't tell you to use it in a particular way. Feel free to apply the oil on hair lengths, scalp or just ends or add it to other products. It works best when you apply it to damp hair and rinse, use it for hot oil treatment or leave it in overnight. Moreover, it works like a lightweight hairstyling primer you can rub into dry strands before heat styling or as sun protection.
ADVANTAGES
100% cold-pressed, unrefined oil
formula without parabens, silicones, alcohols, etc.
has natural fragrance and goldish colour
contains over 100 various nutrients
rich in anti-ageing vitamin E
a brilliant hair styling oil
enhances repair of damaged strands
suitable for use on scalp
works for whole body care
can be used in a variety of ways
delivers full protection e.g. anti-UV shield
is very light and holds out long
DISADVANTAGES
available only online
glass bottle isn't travel-friendly
more info here nanoil.us/argan-oil